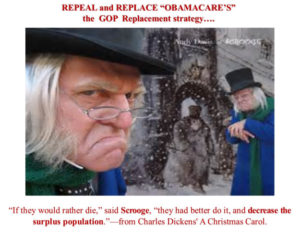 The Trump administration has expanded its sabotage efforts of "Obamacare" into a full-scale undermining of the American healthcare system. Under Trump, Obamacare outreach groups face budget cuts as high as 98%:
The Trump administration has informed government-funded Obamacare outreach groups of deep impending budget cuts next year, with some nonprofits having budgets slashed by as much as 98 percent.
The Health and Human Services Department announced August 31 that it would cut funding for the health law's in-person assistance program by 41 percent. Late Wednesday night, the administration sent each group its individual budget. It shows widespread variation in how big those funding cuts will be.
Last year's budget for the navigator program ran out on September 1. This year's grants were released just before midnight on September 13, meaning that the outreach groups went two weeks with no funding at all. This led to some groups laying off workers or shutting down operations entirely.
Last week the Congressional Budget Office (CBO) issued a new report showing that Trump is making Obamacare premiums more expensive:
The Trump administration's management of Obamacare is causing higher premiums and lower enrollment in the individual market, a new report from the Congressional Budget Office finds.
The nonpartisan office estimates that average premiums in the health law marketplaces will be 15 percent higher next year "largely because of short-term market uncertainty — in particular, insurers' uncertainty about whether federal funding for certain subsidies that are currently available will continue to be provided."
The CBO also estimates that there will be less competition in the marketplaces next year, which it also attributes to the uncertain federal environment surrounding the health law's future.
The subsidies the CBO refers to are the Affordable Care Act's cost-sharing reduction subsidies, which cover copays and deductibles for low-income health care enrollees. The Trump administration has not said whether it will continue to pay these subsidies next year, causing many insurance plans to raise their premiums to prevent any possible shortfall in revenue.
The CBO also points to "announced reductions in federal advertising, outreach, and other enrollment efforts" as additional factors that will make Obamacare sign-ups smaller next year than they otherwise would have been.
President Trump has often described the Affordable Care Act as "imploding on its own." The CBO report suggests this isn't the case at all; rather, the Trump administration is making specific policy decisions that are leading to an individual market that will be less functional, with fewer people signed up and higher premiums for those who do enroll.