Like the fog in the famous, ultra-short poem by the U.S. person Carl Sandburg, fascism may well come in "on little cat feet."
The crypto-fascist Tea-Publican members of the GOP House Freedom Caucus are calling for the criminal prosecution of the political enemies of their "Dear Leader," Donald Trump. This is what occurs in tin-pot dictatorships and  authoritarian banana republics.
Matthew Yglesias reports, 11 House Republicans call for prosecutions of Clinton, Comey, Lynch, and others The authoritarianism is coming from inside the House: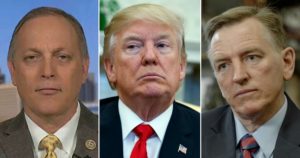 Eleven House Republicans — Ron DeSantis, Andy Biggs, Dave Brat, Jeff Duncan, Matt Gaetz, Paul Gosar, Andy Harris, Jody Hice, Todd Rokita, Claudia Tenney, and Ted Yoho — have signed a joint letter to Attorney General Jeff Sessions calling for the criminal prosecution of Hillary Clinton and a variety of other Obama administration appointees, career FBI officials, and even Trump appointee Dana Boente, who is currently the FBI's general counsel.
Arizona Reps. Paul Gosar and Andy Biggs have always been unfit to serve in any political office, and Arizona voters have both a moral and patriotic duty to remove these fringe radical extremists from office. These sorry excuses for a human being are a disgrace and an embarrassment to this state. As The Arizona Republic editorialized earlier this year, Our View: Rep. Paul Gosar is a disgrace to Arizona. Somebody please unseat him. The same goes for Andy Biggs.