Most Americans are of the opinion that they cannot wait for this ugly election to be over on election day. Little do they know that election day is not the end, but only just the beginning.
The radical Neo-Confederate Tea-Publican insurrectionists who have held the federal government hostage for the past six years are plotting against their own GOP leadership, and to engage in Tea-Publican tyranny against the federal government after election day. The Washington Post reported over the weekend:
House Speaker Paul D. Ryan is on the verge of a reckoning with House conservatives that threatens to end his speakership and extinguish his future as a national political leader.
The intraparty fight is set to begin in the days after the Nov. 8 election, when Ryan (R-Wis.) will be under immediate pressure from approximately 40 hard-line House conservatives [House Freedom Caucus] frustrated with his handling of spending fights and his shifting position on GOP presidential nominee Donald Trump. The conservatives are eyeing a November leadership election and December spending deadline to determine how Ryan can lead Republicans — or if he can lead them at all.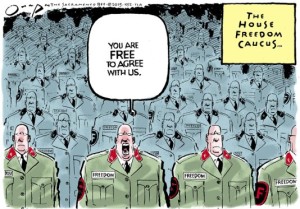 Conservatives have no plans to compromise next year with Hillary Clinton if she wins the White House and Democrats capture the Senate. They are pushing Ryan to hold the line on spending and other matters, even if it means continued partisan gridlock on Capitol Hill. Some members of the hard-right House Freedom Caucus have crafted a list of demands — including deep spending cuts, changes to House rules and a promise to vote only on bills that have majority Republican backing — in exchange for their support.
"If the speaker can't answer yes to those on paper, I'm going to someone who can," said Rep. Dave Brat (R-Va.). "From now on it needs to be on paper, in writing, with a blood oath of some sort pledging your house and mortgage on the line, too."
Meanwhile, some mainstream conservatives who constitute the bulk of the House GOP — a group that has largely been pleased with Ryan — are starting to openly contemplate whether he will want to continue as speaker.