Did you know that there was only one victim in Charlottesville, Virginia, and it wasn't Heather Heyer? Oh no, the victim was our always insecure egomaniacal Twitter-troll-in-chief at the hands of a "dishonest" media that accurately reported his words live on TV.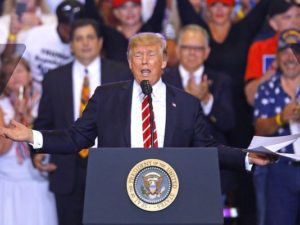 Donald Trump came to Phoenix to throw himself a "pity party" among his sycophant supporters with a long list of perceived grievances against all those whom he feels have done him wrong. He's the victim in his revisionist history. The Daily 202: Trump's penchant for revisionist history on display during Arizona rally.
This is in keeping with the conservative white grievance sense of victimhood, that they are "victimized" for their whacked-out conspiratorial non-factual beliefs in utter nonsense for which they are fed a steady diet from the conservative media entertainment complex. This sense of victimhood is the unifying "tribalism" around which they rally in this anti-intellectual movement led by the most dangerous demagogue in American history.
The Washington Post reports, Trump threatens government shutdown, suggests controversial pardon at Arizona rally (paragraphs have been reordered):
President Trump's freewheeling comments came at a boisterous campaign rally here during which he went on an extended diatribe about the media, blaming reporters for the negative fallout he has received over his responses to the hate-fueled violence in Charlottesville.
At the outset of the rally, Trump selectively recounted the series of statements he made in the days following the melee in Charlottesville, arguing that he "spoke out forcefully against hatred and bigotry and violence" but that the media — whom he called "sick people" — refused to report it properly.
"You know where my heart is," Trump said, before pulling a copy of his first of three statements on the violence out of his suit coat and reading it to his audience. He later accused the media of giving a platform to the hate groups that were central to the violence in Charlottesville that led to three deaths.
Following his comments last week, Trump was criticized by Democrats and Republicans alike for blaming "both sides" for the violence and saying that "fine people" had marched along with white supremacists to protest the removal of a Confederate statue.
Trump did not mention either of those remarks in his diatribe against the media on Tuesday. He lied by omission to his sycophant supporters in his revisionist history, and his sycophant supporters didn't care. Facts simply do not matter to these people, they are in thrall to Trump lies, President Trump has made more than 1,000 false or misleading statements, all that matters to them is their unquestioning devotion and loyalty to their "Dear Leader."
Trump also never mentioned Heather Heyer, the woman mowed down by a white supremacist with his vehicle in Charlottesville. In Trump's revisionist history, he was the only victim that day.