Two important opinion pieces recently from conservative pundits on the moral decay of the GOP under Donald Trump. People who approve of Trump do so *because* of his behavior in office, not despite it.
First, Michael Gerson of the Washington Post writes, Trump deepens the moral damage to the GOP: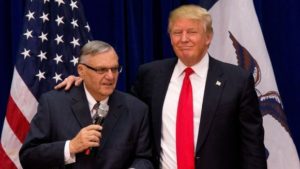 Repetition is the enemy of maintaining proper distinctions. It is a short road from being serially outraged to being slightly bored to being completely inured.
Thus many are likely to find the pardon of former Arizona county sheriff Joe Arpaio to be just another . . . something. Just another public feeding of President Trump's base; or just an additional shiny distraction from real issues; or just one more cause for head-shaking and shoulder-shrugging; or just further evidence of the tawdry political company kept by the president of the United States.
This would be a mistake. This presidential action is not "just" anything. Following his expression of sympathy for the "very fine people" attending a white- supremacist rally in Charlottesville — who were, he said, defending "our history and heritage" — Trump must have known his next move would be highly symbolic, either as a retreat from prejudice or as its affirmation. What followed with the Arpaio pardon constitutes the most forthright racist incitement of the Trump era.