Several pundits have theorized that Donald Trump ran for president out of revenge for President Obama deftly mocking him and humiliating him at the White House Correspondents Dinner over "The Donald's" birtherism conspiracy mongering. "The Donald" does not like to be laughed at, as he has frequently emphasized.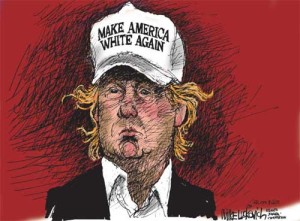 But it goes much deeper than this. Donald Trump wants to negate Barack Obama's presidency and his legacy as an accident of history, according to Ta-Nehisi Coates in the cover story of The Atlantic. The First White President (excerpt):
His political career began in advocacy of birtherism, that modern recasting of the old American precept that black people are not fit to be citizens of the country they built. But long before birtherism, Trump had made his worldview clear. He fought to keep blacks out of his buildings, according to the U.S. government; called for the death penalty for the eventually exonerated Central Park Five; and railed against "lazy" black employees. "Black guys counting my money! I hate it," Trump was once quoted as saying. "The only kind of people I want counting my money are short guys that wear yarmulkes every day." After his cabal of conspiracy theorists forced Barack Obama to present his birth certificate, Trump demanded the president's college grades (offering $5 million in exchange for them), insisting that Obama was not intelligent enough to have gone to an Ivy League school, and that his acclaimed memoir, Dreams From My Father, had been ghostwritten by a white man, Bill Ayers.
* * *
For Trump, it almost seems that the fact of Obama, the fact of a black president, insulted him personally. The insult intensified when Obama and Seth Meyers publicly humiliated him at the White House Correspondents' Dinner in 2011. But the bloody heirloom ensures the last laugh. Replacing Obama is not enough—Trump has made the negation of Obama's legacy the foundation of his own. And this too is whiteness. "Race is an idea, not a fact," the historian Nell Irvin Painter has written, and essential to the construct of a "white race" is the idea of not being a nigger. Before Barack Obama, niggers could be manufactured out of Sister Souljahs, Willie Hortons, and Dusky Sallys. But Donald Trump arrived in the wake of something more potent—an entire nigger presidency with nigger health care, nigger climate accords, and nigger justice reform, all of which could be targeted for destruction or redemption, thus reifying the idea of being white. Trump truly is something new—the first president whose entire political existence hinges on the fact of a black president. And so it will not suffice to say that Trump is a white man like all the others who rose to become president. He must be called by his rightful honorific—America's first white president.
You really should read Coates' entire essay.