Score another win for the resistance, with special thanks to the disability rights group ADAPT for their fearless opposition to the zombie "Trumpcare" bill. Protesters disrupt Senate health-care hearing, 181 arrested: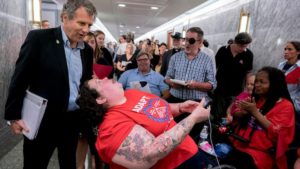 The Senate Finance Committee was forced to briefly delay its hearing on the Republican health-care bill on Monday after police were called in to remove loud protesters, many of whom were representing the disability rights group ADAPT. The demonstrators chanted "no cuts to Medicaid, save our liberty" and "kill the bill, don't kill me," and could still be heard in the hallways after they'd been removed from the room.
Growing frustrated with the noise, panel chairman Orrin Hatch (R-Utah) snapped: "If you want a hearing, you better shut up."
Update: A spokesperson for Capitol Police released a statement Monday night saying a total of 181 protesters were arrested.
This marks the first time in the history of the Senate Finance Committee that any protestor was arrested by Capitol Police.
On Monday, the Congressional Budget Office (CBO) issued its preliminary assessment of the zombie "Trumpcare" bill, because it does not have sufficient time to complete a full analysis up against the artificial deadline of September 30 imposed by the Senate's use of the budget reconciliation rules. CBO finds 'millions' will lose coverage from repeal bill:
The Congressional Budget Office (CBO) projected Monday that the last-ditch GOP ObamaCare repeal bill would result in "millions" of people losing coverage.
The agency did not give a specific number given a lack of time to do the analysis before a vote, but said the "direction of the effect is clear."
CBO said the reduction in coverage would be felt in three areas: in Medicaid, because the bill repeals ObamaCare's expansion of Medicaid; in private coverage, because the bill repeals subsidies that help people afford it; and because the mandate to have coverage would be repealed.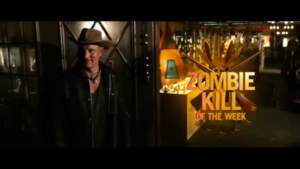 After the CBO analysis was released, Sen. Susan Collins (R-ME) told reporters she would vote against the zombie "Trumpcare" bill, providing the third declared vote against the bill along with Sens. John McCain (R-AZ) and Rand Paul (R-Ky), effectively blocking passage of the bill. Collins said she hoped senators could return to the bipartisan ObamaCare stabilization negotiations that were abruptly cut off by GOP leadership last week.
Sen. Susan Collins is this week's winner of the "zombie kill of the week" award.