A federal judge in Los Angeles dealt the Trump administration another significant blow on Monday by rejecting its attempt to indefinitely detain immigrant children caught crossing the border illegally with their parents (in the decades-old Flores case). Judge rejects Trump administration bid to indefinitely detain immigrant children with parents: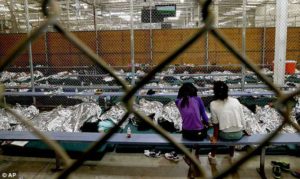 U.S. District Judge Dolly Gee issued an   order lambasting the Justice Department for its request to modify the 1997 [Flores] settlement agreement that set rules for how the government can deal with immigrant children in its custody. Calling President Trump's executive order on immigrants "ill-considered," the judge accused the administration of attempting to shift blame to the courts for a crisis of Congress' and the president's making.
Gee's order came as Justice Department attorneys told a federal judge in San Diego [Ms. L. v. ICE] they would miss Tuesday's deadline for authorities to reunite parents and children younger than 5 who were forcibly separated at the border.
Just over half the 102 children identified by the government will be reunited by Tuesday's deadline, the attorneys told U.S. District Judge Dana Sabraw, who had previously ordered the reunifications in response to a legal action brought by the American Civil Liberties Union. The rest includes children whose parents were already deported, have criminal records and are unfit to care for them, Justice Department attorneys said. In the case of one 3-year-old boy, they said, authorities couldn't find any parental records.