Franklin D. Roosevelt on the presidency: "It is preeminently a place of moral leadership" (quoted in The New York Times, Sept. 11, 1932).
I watched an interview with Bill Kristol of the conservative Weekly Standard, who said that he has "given up" on Donald Trump ever being capable of moral leadership. Donald Trump has no interest in providing moral leadership. Kristol called on Republican governors, mayors, civic and religious leaders to fill the void of moral leadership lacking from Donald Trump.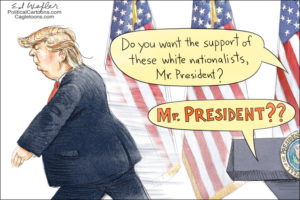 Kristol, as well as many Republican elected officials and political pundits, have been highly critical of Trump's failure to condemn White supremacist groups for their violent rally in Charlottesville, Virginia on Saturday.
Trump's reticence was because these white supremacist groups are a key constituency of his base. It was a crass political calculation.
Former Ku Klux Klan imperial wizard David Duke appeared at the "Unite the Right" rally in Charlottesville, saying that the event represented fulfilling the promises of President Trump. David Duke: Charlottesville protests about 'fulfilling promises of Donald Trump'.
"This represents a turning point for the people of this country. We are determined to take our country back, we're going to fulfill the promises of Donald Trump, and that's what we believed in, that's why we voted for Donald Trump, because he said he's going to take our country back and that's what we gotta do," Duke said.
Trump condemned the violence on Saturday without specifically calling out white nationalist groups during a press conference Saturday afternoon. "We condemn in the strongest possible terms this egregious display of hatred, bigotry and violence on many sides — on many sides," Trump said.
Duke responded to Trump's weak tweet on Saturday: