In a continuing series of defeats before the courts for President Trump's ill-considered Muslim travel ban, the Fourth Circuit Court of Appeals on Thursday refused to reinstate President Trump's revised Muslim travel ban, saying it discriminated on the basis of religion. Federal appeals court largely maintains freeze of Trump's travel ban: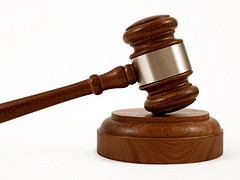 The ruling from the U.S. Court of Appeals for the 4th Circuit means the Trump administration still cannot enforce its travel order that the government says is urgently needed for national security.
In its 10 to 3 en banc decision, the Richmond-based court said the president's broad immigration power to deny entry into the U.S. is not absolute.
"It cannot go unchecked when, as here, the president wields it through an executive edict that stands to cause irreparable harm to individuals across this nation," according to the majority opinion written by Chief Judge Roger L. Gregory, and joined in part by nine other judges.
The 4th Circuit declined to lift an order from a Maryland federal judge, who ruled against the travel ban in March and sided with opponents who said the ban violates the Constitution by intentionally discriminating against Muslims. The ruling leaves the injunction in place and means citizens from Iran, Sudan, Somalia, Yemen, Syria and Libya can continue entering the United States.