In all the media analysis since last Saturday about President Donald Trump's defense of and false equivalence between Neo-Confederate and Neo-Nazi white supremacists — a key constituency of Trump supporters — and the counter-protestors who were the victims of their hatred in Charlottesville, Virginia, the focus has been on when GOP politicians will finally disassociate themselves from Trump and disown him as their standard-bearer. It is indefensible for Republicans to stick with Trump.
But what is missing from this analysis is that Trump is a demagogue who hijacked the GOP for his own purposes, and the GOP made a Faustian bargain with the devil believing that they in turn could use him for their own purposes.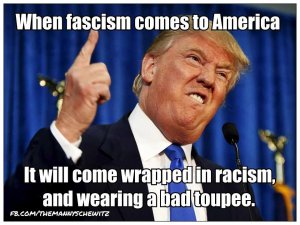 Trump's supporters are a cult of personality who worship at the feet of this dangerous demagogue. Trump was quite literally correct when he said that "I could stand in the middle of 5th Avenue and shoot somebody and I wouldn't lose voters," among his supporters. They are unquestioning devoted to him.
The GOP can disown Trump, and Trump in turn will disown the GOP, forming his own Trump-centric political party, and taking his cult followers with him. I fully expect to see this happen before 2020.