Yet another Donald Trump conspiracy theory is thoroughly rebuked by the Russia investigation. Rod Rosenstein and Robert Mueller officially rebuke a major Trump conspiracy theory: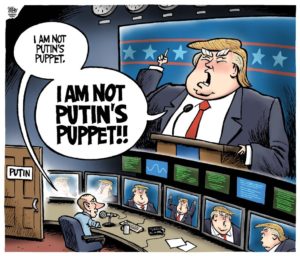 Trump has regularly cast doubt upon the idea that the Democratic National Committee was hacked by the Russians — or that it was hacked at all. At one point he even reportedly dispatched a conspiracy theorist to meet with then-CIA Director Mike Pompeo. (Pompeo is now secretary of state.)
At his first presidential debate with Clinton in September 2016, Trump added a number of other potential perpetrators, despite clear indications from the intelligence community that it was Russia.
"I don't think anybody knows it was Russia that broke into the DNC. She's saying Russia, Russia, Russia, but I don't — maybe it was," Trump said. "I mean, it could be Russia, but it could also be China. It could also be lots of other people. It also could be somebody sitting on their bed that weighs 400 pounds, okay? You don't know who broke into DNC."
He said something similar in the second debate, just two days after the intelligence community issued a joint statement saying it was "confident" Russia was responsible. He expanded his doubts to suggest there wasn't any hacking.
"I notice, anytime anything wrong happens, they like to say the Russians are — she doesn't know if it's the Russians doing the hacking," Trump said of Clinton. "Maybe there is no hacking. But they always blame Russia. And the reason they blame Russia is because they think they're trying to tarnish me with Russia."
Today, Robert Mueller said "I'll see your idiot conspiracy theory and raise you a dozen Russian intelligence agents. (Say hello to your pal Putin for me in Helsinki)." Mueller probe indicts 12 Russians for hacking Democrats in 2016:
A dozen Russian intelligence officers have been charged with conspiring to hack Democrats during the 2016 presidential campaign, according to a new indictment in the probe led by special counsel Robert S. Mueller III.
The indictment includes charges of conspiracy by the Russian intelligence officials against the United States, money laundering and attempts to break into state election boards and other government agencies.