A federal judge on Monday cleared the way for President Trump's fraudulent "voter fraud" commission to proceed in gathering personal data on the nation's voters. The 35 page order and opinion is HERE (.pdf).
The New York Times reports, Judge Clears Way for Trump's Voter Fraud Panel to Collect Data: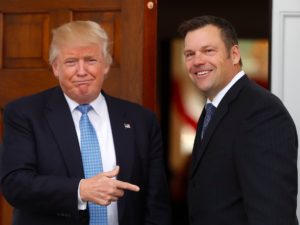 [Trump's fraudulent "voter fraud" commission], which was created after the president falsely claimed that millions of illegal votes cost him the popular vote in 2016, has come under siege from many organizations that have filed lawsuits accusing the commission of violating federal privacy laws. The judge's decision on Monday delivered a setback to the opposition, which has objected to the commission's expansive request for the personal and public data about the country's 200 million voters.
The Electronic Privacy Information Center, which filed the suit, sought to stop the commission from acquiring the voter data, claiming that the panel should have conducted a privacy impact assessment before asking states for the personal information. But the judge, Colleen Kollar-Kotelly of Federal District Court, said the panel did not qualify as a federal agency, so it was not required to conduct and publish a privacy assessment.
So this is a narrow ruling based on a statutory technicality, not a sweeping endorsement of the commission.