Last week, disgraced former Alabama chief justice Roy Moore, twice removed from the bench for unethical conduct in violation of the judicial code of ethics, nevertheless easily won the Alabama special election GOP primary for U.S. Senate.  Moore was supported the by far-the right fringe, in particular, white nationalist Stephen Bannon from Breitbart News and his billionaire financier Robert Mercer, who are waging a war on the GOP "establishment."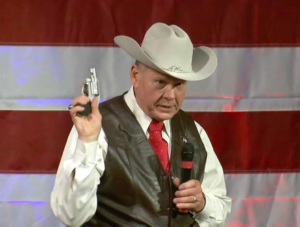 Moore served as a columnist for years at the right-wing conspiracy site  World Net Daily. Moore was a leading proponent of the "birther" conspiracy theory, which posited, without evidence, that former President Obama wasn't born in the United States. Moore took exception to Rep. Keith Ellison's (D-Minn.), a Muslim, taking his oath of office with his hand on the Quran. Moore questioned  Ellison's qualifications to be a member of Congress" because, he wrote, Islam is "directly contrary to the principles of the Constitution." (The Constitution prohibits a religious test for office). Moore has argued on multiple occasions that America's secular shift is responsible for the 9/11 terrorist attacks and recent "shootings and killings." He regularly rails against abortion, and argued in 2005 footage reported by CNN that homosexuality should be illegal. Roy Moore's five most controversial remarks.
Roy Moore has been a household name for years among the Christian Right nationalists who want a theocracy in America. Yet Senate Republicans are pretending that they don't know anything about him. Senate Republicans have never heard of Roy Moore:
Senate Republicans say they know almost nothing about Roy Moore, their wildly controversial candidate in the Alabama special election. But they really, really want him to be elected to the Senate.
What about Moore's history of racially insensitive comments? Haven't heard anything. Homophobic remarks? Nada. Moore's claim that some American communities are living under Sharia law? Crickets. Moore's statement that 9/11 happened "because we've distanced ourselves from God"? Nothing for you on that. Moore's assertion that Democratic Rep. Keith Ellison shouldn't be allowed to serve in Congress because he's a Muslim? We'll get back to you. Moore saying Mitch McConnell should be replaced as Senate majority leader? Uhh, zip.
[T]he only thing that matters for party leaders is what Moore does from now on — not what he's done before. And that he wins the Dec. 12 runoff against Democrat Doug Jones.