"The most corrupt sheriff in America" finally lost his elected office last Novenber, and now justice may finally arrive for Crazy Uncle Joe Arpaio. Criminal contempt trial of former Sheriff Joe Arpaio set to open Monday: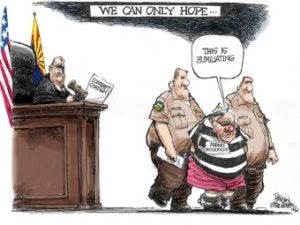 Joe Arpaio — the man, not the lawman — is the defendant in a federal criminal trial scheduled to begin in Phoenix on Monday.
Unlike before, efforts by his attorneys to delay, dismiss or otherwise adjust the trial this time around have not been successful so far.
The court proceeding is scheduled to last for two weeks, with prosecutors from the U.S. Department of Justice's Public Integrity Section.
The former Maricopa County sheriff is accused of defying a federal judge's orders that barred Arpaio from enforcing federal immigration law.
The alleged criminal contempt of court happened over a period of 18 months in 2012 and 2013, when Arpaio was still in office.
Arpaio already has been found in civil contempt for the same case. Under the law, the difference between civil and criminal contempt is intent — whether the defendant willfully or unintentionally violated a judge's order.