Last month we learned that Arizona Secretary of State Michele Reagan violated the law when her office failed to mail publicity pamphlets to hundreds of thousands of voters in time for the May 2016 special election, a state-appointed investigator has concluded.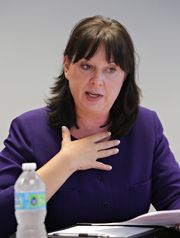 But, the investigator found, there is no provision in state law to punish anyone for not delivering the pamphlets on time and Reagan and her staff did not act criminally.
That's the outcome of a long-awaited investigative report released Wednesday by the Arizona Attorney General's Office. Michael Morrissey, a former federal prosecutor now in private practice, led the review as an appointed special investigator.
Reagan responded "mistakes were made and we were responsible," then tried to pass the buck to vendors and her staff.
Last week the Secretary of State was sued for illegally denying thousands of Arizonans the right to vote in federal elections because they registered using the federal voter registration form. Arizona, lawsuit contends voters are being disenfranchised:
Legal papers filed Tuesday in federal court here acknowledge that state law requires would-be voters to produce certain identification when registering. That requirement has been upheld in prior court rulings.
But attorneys for the League of United Latin American Citizens and the Arizona Students Association point out that the U.S. Supreme Court has said that state law does not — and cannot — prevent people from registering to vote for federal elections using a federally approved registration form. And they contend that those whose state registrations are rejected for lack of citizenship proof are not informed of that option.
"At least 26,000 voters in Maricopa County alone have been disenfranchised by these policies," the lawsuit states. But the problem is not limited there.
The lawyers say they've sampled more than 2,000 state registration forms that were rejected because applicants had failed to provide the required proof of citizenship. Of that group, fewer than 15 percent successfully registered after receiving notice of the rejection.
"Therefore, many eligible voters across Arizona have been disenfranchised by these unnecessary bureaucratic policies," the lawsuit states.