The Arizona Supreme Court has ruled Voters can decide whether to keep school-voucher expansion: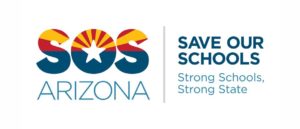 The Arizona Supreme Court ruled Wednesday that voters get to have a say on Proposition 305, a ballot initiative that asks if they want to keep or do away with an expansion of the state's school voucher-style program.
The Empowerment Scholarship Account program currently allows only certain students to apply for the program, including special-needs students and those from poor-performing schools. The program gives parents public money and allows them to spend it on private school tuition, educational materials and therapies.
Last year, Gov. Doug Ducey and Republican lawmakers narrowly passed legislation (the "vouchers on steroids" bill) to expand eligibility to all 1.1 million public students but capping the program at about 30,000.
A mostly grassroots group of parents and public-education advocates called Save Our Schools Arizona collected enough signatures to refer the expansion to the November 2018 ballot.
But supporters of the expansion — the "Kochtopus" and their Tea-Publican lackeys in the legislature — waged a legal battle to try to keep the initiative off the November ballot.
The decision from the high court deals a final court blow to those supporters and upholds a lower court decision.