Former C.I.A. director John Brennan testified before the House Intelligence Committee today and refuted the Trump campaign/administration push-back about their contacts with the Russians. Former C.I.A. Chief Reveals Mounting Concern Over Trump Campaign and Russia: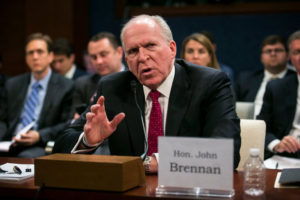 As Russian hackers and propagandists tried to manipulate the American election last year, the C.I.A. noticed a series of suspicious contacts between Russian government officials and associates of Donald J. Trump's campaign, John O. Brennan, the former C.I.A. director, said Tuesday.
In testimony before the House Intelligence Committee, Mr. Brennan described a nerve-fraying few months as American authorities realized that the election was under attack and worried that Mr. Trump's campaign might be aiding that fight. His remarks were the fullest public account to date of the origins of an F.B.I. investigation that continues to shadow the Trump administration.
"I know what the Russians try to do. They try to suborn individuals and try to get individuals, including U.S. individuals, to act on their behalf, wittingly or unwittingly," Mr. Brennan said. When he left office in January, he said, "I had unresolved questions in my mind as to whether or not the Russians had been successful in getting U.S. persons involved in the campaign or not to work on their behalf."
Mr. Brennan acknowledged that he did not know whether the Trump campaign colluded with Russian operatives and said the contacts might be benign. But his confirmation of those contacts was the latest revelation to undermine Mr. Trump's changing account of his campaign's links to Russia.