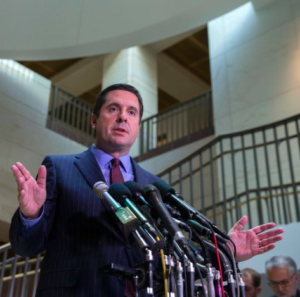 It turns out that Rep. Devin Nunes' breathless news conference a couple of weeks ago was much ado about nothing, a dog and pony show designed to create a grand distraction for the Trump administration after a very bad day of testimony before the House Intelligence Committee that he chairs.
Now that members of his committee and its staff have had a chance to review allegedly the same documents that White House sources shared with Nunes, their assessment is that there is nothing to see here.
CNN reports CNN Exclusive: Classified docs contradict Nunes surveillance claims, GOP and Dem sources say:
After a review of the same intelligence reports brought to light by House Intelligence Chairman Devin Nunes, both Republican and Democratic lawmakers and aides have so far found no evidence that Obama administration officials did anything unusual or illegal, multiple sources in both parties tell CNN.
Their private assessment contradicts President Donald Trump's allegations that former Obama national security adviser Susan Rice broke the law by requesting the "unmasking" of US individuals' identities. Trump had claimed the matter was a "massive story."