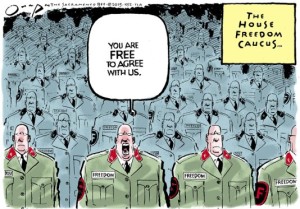 It is decision day (D-Day) in the House.
The radical far-right GOP House Freedom Caucus is making eleventh-hour demands for more draconian measures to the GOP's "Obamacare" repeal bill aka "Trumpcare 2.0" (soon to be 3.0?) ahead of the vote scheduled for today, only because it is the anniversary of President Obama signing the Affordable Care Act into law. The post-policy nihilists of the GOP only do propaganda, not policy.
The New York Times reports, Key to Health Vote, Hard-Line Conservatives Push New Cuts:
Hard-line conservatives in the House will meet Thursday morning with President Trump to hammer out changes to the House bill to repeal the Affordable Care Act, pressing to eliminate federal requirements that health insurance plans provide a basic set of benefits like maternity care, emergency services and wellness visits.
What the Freedom Caucus wants in the GOP health-care bill, and why it's not getting it:
The Congressional Budget and Impoundment Control Act of 1974 dictates that not just anything can be passed by the "reconciliation" process; matters that are "extraneous" to the budgetary nature of the bill are excluded.
House leaders, including Speaker Paul D. Ryan (R-Wis.), are insisting that any provisions rolling back the ACA's essential health benefits are indeed extraneous. And not only are they extraneous, Ryan argued Wednesday, but if the House adds them to the bill, the Senate couldn't just strip them out — it could no longer consider it as a privileged reconciliation bill needing only a simple, Republican majority to pass.
Translation: the Senate cloture rule requiring 60 votes to end debate and advance to a vote on the bill will apply, and Democrats could comfortably filibuster this bill in the Senate.