On Thursday, House Intelligence Committee chairman Devin Nunes Apologized to Intel. Committee Members—But Won't Explain His Stunt: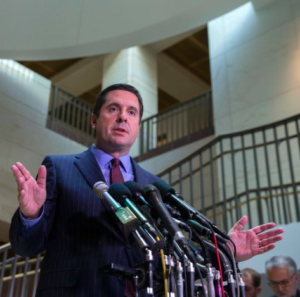 On Wednesday afternoon, Rep. Devin Nunes (R-Calif.), the chair of the House intelligence committee, blew up the congressional intelligence oversight process. On Thursday morning, at a private committee meeting, he apologized to his colleagues. But, according to a committee source, Nunes would not say what he thought he had done wrong or explain his actions.
Without consulting with the members of his committee—Republicans and Democrats—Nunes on Wednesday held two press conferences, during which he claimed he had been given information indicating that members of Donald Trump's presidential transition team, including possibly Trump, were picked up during lawfully authorized intelligence surveillance of other targets and that their identities were disclosed in intelligence reporting based on these intercepts. Nunes also rushed to the White House to share this information with Trump.
Note: House Intelligence chair partially backs off claim about surveillance of Trump transition team: "The head of the House Intelligence Committee partially backed away from his dramatic claim [on Wednesday] that officials in President Trump's transition team had been subjects of surveillance by U.S. intelligence agencies, with an aide saying that Chairman Devin Nunes did not know "for sure." "Until Nunes sees the actual documents, he does not know whether any of the transition officials were actually part of the surveilled conversations or were just talked about by others, spokesman Jack Langer said Thursday." "He'll have to get all the documents he requested from the [intelligence community] about this before he knows for sure," Langer said.