The Republican National Committee and Arizona Republican Party have largely been supplanted by what amounts to a private political party of billionaire donors and corporations and their nonprofit PACs who supply the GOP's "dark money" campaign financing lifeline. For example, see the Center for Responsive Politics (OpenSecrets.org) Who are the top Dark Money Donors?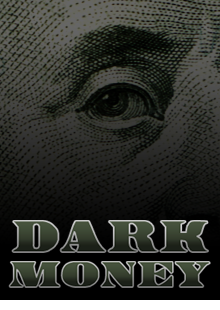 Tea-Publicans in the Arizona legislature have consistently defeated measures requiring greater transparency and disclosure of sources of campaign financing, and have advanced measures making opaque "dark money" campaign financing easier and more wide-spread out of pure self-interest — the GOP is entirely dependent on "dark money."
In response, local governments have tried to step in to fill the void created by our GOP-controlled state legislature, and have enacted "clean election" disclosure requirements for campaign contributions. Our authoritarian GOP legislature won't stand for this, and is acting to quash local government "clean election" disclosure requirements for campaign contributions.
The Arizona Capitol Times (subscription required) reports, House passes measure to keep cities from banning 'dark money':
State lawmakers voted Tuesday to block any efforts by Arizona cities and counties to find out – and inform the public – who is funneling money into local elections through nonprofit groups.
On a 33-25 margin the Republican-controlled House voted to prohibit local government from requiring organizations declared to be tax-exempt by the Internal Revenue Service from registering as political action committees, even if they are putting money into races.
More to the point, it would preclude any requirement that these so-called "dark money" groups identify donors. And it would bar local governments from auditing the books of these groups or requiring them to respond to subpoenas, even if there were allegations that they were violating campaign finance laws.
HB 2153 (.pdf) now goes to the Senate, which also is dominated by Tea-Publicans.