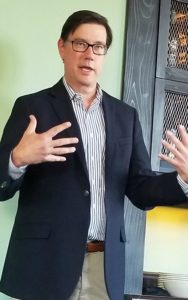 One year into his campaign for Governor, Democratic candidate Steve Farley is on a roll. Polls show that  Gov. Ducey is vulnerable, Farley has raised $1.1 million in contributions, and his message of rebuilding Arizona's impoverished schools is resonating with Democrats.
"I'm the only Democratic candidate who's been elected to public office and I've been in the Legislature for 12 years," he said at a recent campaign stop in Tucson. "I'm the only Democratic candidate who has ever won an election, and I've won 6 in a row. I know how to win."
It's about 60 days before early ballots drop in the primary election, which will be held on August 28, and Farley is crossing the state to see voters, debating his primary challenger David Garcia, and even talking on conservative talk radio.
Farley is the state Senator from legislative district 9 (Casa Adobes and the Foothills in Tucson) and is on the Appropriations and the Finance committees. He is the Assistant Minority Leader in the state Senate.
"I speak good "Republican,'" he quipped. "I go on conservative talk radio a lot and like to preach to the unconverted. People call in and say, 'I've never heard a Democrat speak before, but you make sense.' With that kind of change in thinking, we can make something good happen."
Teacher Raises
Farley was the first elected official to call for a 20% raise for teachers more than a year ago and this has cemented his support from teachers in the #RedForEd movement.
Continue reading →