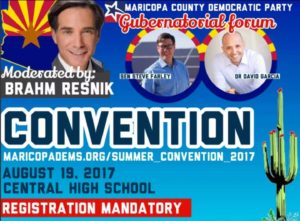 Prepared and articulate, Democratic candidate for governor Steven Farley won a friendly debate with David Garcia at the Maricopa County Democrats convention in Phoenix on Aug. 19.
You can disagree in the comments, but Farley was clearly the candidate who can beat Doug Ducey:
He had specific answers about funding education and where to get the money. Garcia gave general answers and anecdotes.

Farley has actually been elected to office 6 times over the last 11 years.

Garcia lost in the 2014 race for Superintendent of Public Instruction to Diane Douglas, who did not campaign publicly.

Farley is a sitting state senator and Garcia is an ASU professor.
Hundreds of precinct committeemen and officers attended the event, which was live-cast on the party's Facebook page and moderated by Brahm Resnik of NBC channel 12 news.
.6% Education Sales Tax
Farley: opposed, because it's a regressive tax that hurts the poor. "The Arizona chamber of commerce says every year that we need to fund education and we need more corporate tax breaks, guess which one the legislature has listened to. These business leaders are calling for a 1% increase in your sales tax, but they should start calling for a tax increase on themselves. If they are sincere about improving our education system, they should share some of the burdens and not just let middle-class people take it again."
Garcia: in favor, with an increase to 1% or 2%, but with additional dollars coming from closing tax loopholes. Continue reading →