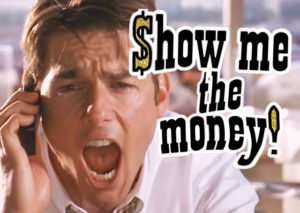 After our Koch-bot Governor Ducey went from "those damn teachers should be grateful for the pittance I gave them" to doing a complete 180 degree flip-flop last week, saying he would agree to the teacher's demands for a 20 percent pay increase by 2020, the question he left unanswered was "how do you intend to pay for it?" In a rare editorial opinion the Arizona Daily Star editorialized, Star Opinion: Gov. Ducey's 20 percent teacher raises? Show us the money.
The Arizona Capitol Times has a partial answer today, and as you might expect, it's the same old dog and pony show the GOP does with the state budget every year. Ducey proposes spending sweeps, reductions and rosy revenues to fund teacher raise. Lord help us.
Gov. Doug Ducey plans on funding a 20 percent teacher raise over the next three years with rosy revenue projections (magic!) and a mix of funding sweeps, lottery revenues and spending reductions.
State budget analysts provided legislators an analysis of Ducey's plan, which the governor announced on April 12 amid emphatic teacher protests and threats of a strike. The governor promised he would push for a 9-percent raise in 2018, to be followed by 5 percent raises in the next two years.
That plan would cost the state $240 million in fiscal year 2019 alone. By FY21, the cost rises to $580 million, according to budget documents obtained by the Arizona Capitol Times.
In fiscal year 2019, that includes $176 million added to the base funding formula for K-12 schools, and $64 million in one-time dollars meant to act as "bridge" to the adjustment in Proposition 301 approved by the Legislature.
The Prop. 301 extension, approved in March, will shift $64 million in debt servicing to the Classroom Site Fund in fiscal year 2022, when the debt is paid off.
On top of those dollars, another $165 million would be added for teacher pay in fiscal year 2020, followed by $175 million in FY21.