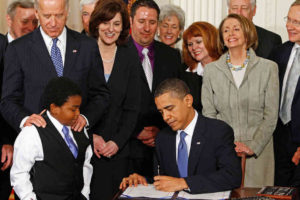 Tea-Publicans in Congress want to hold a vote on their "Obamacare" repeal bill aka "Trumpcare" on Thursday for one reason, and one reason only: it is the seventh anniversary of President Obama signing the Affordable Care Act (ACA) into law. The post-policy nihilism of the GOP is all about empty symbolism and marketing to the conservative media entertainment complex for them.
Just one problem: Tea-Publicans do not have the votes to pass their own bill among their own members in Congress. The radical House Freedom Caucus demands nothing less than a straight-up repeal of the entirety of the ACA (something these lunatics apparently do not realize cannot be done under the budget reconciliation process, which this bill is proceeding under). Concessions to these far-right radicals will lose the mythical moderate Republicans who have the ACA's expanded Medicaid in their states and who are afraid of voters turning on them for taking away their health care (looking at you Rep. Martha McSally).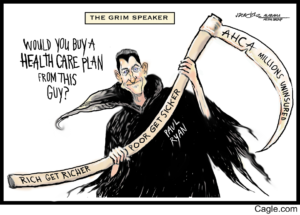 The so-called American Health Care Act aka "Trumpcare" bill drafted by the GOP's alleged boy genius, "the zombie-eyed granny starver from the sate of Wisconsin" and Ayn Rand fanboy Paul Ryan, is dead on arrival (DOA) in Congress. He does not have the votes and he desperately wants to avoid a defeat on Thursday which would demonstrate just how weak a Speaker of the House he is.
So boy genius last night rolled out "Trumpcare 2.0" to try to sway enough GOP members of Congress to go along in the House to avoid an embarrassing defeat. (This new version is no more likely to pass the Senate than the original bill). It is all about saving face, the one thing that really matters to boy genius.