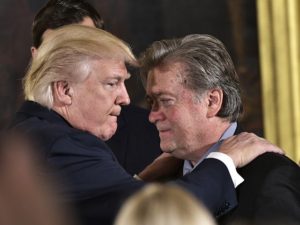 It appears that a series of interviews this week by chief White House strategist Steve Bannon displaying extreme hubris about his "power behind the throne" was the straw that broke the camel's back.
There can only be one self-involved egomaniacal man-child in the White House, and that is Donald Trump.
New chief of staff Ret. Gen. John Kelly finally pulled the trigger and fired Steve Bannon (and more firings are rumored coming). Trump's chief strategist Steve Bannon fired:
President Donald Trump's chief strategist Steve Bannon has been fired, multiple White House officials told CNN on Friday.
Sources told CNN that Bannon's ouster had been in the works for two weeks and a source said that while Bannon was given the option to resign, he was ultimately forced out.
White House press secretary Sarah Huckabee Sanders confirmed Bannon's departure, but claimed the decision for him to leave was mutual.
"White House Chief of Staff John Kelly and Steve Bannon have mutually agreed today would be Steve's last day. We are grateful for his service and wish him the best," Sanders said in a statement.