Let's be perfectly clear: if a Democratic president had done what Donald Trump is currently doing in foreign policy, that president would be the subject of an impeachment proceeding right now as we speak. Republicans would have drafted an article of impeachment for treason, without doubt. But as always, IOKIYAR.
David Leonhardt of the New York Times sums it up nicely. Trump Tries to Destroy the West:
President Trump is trying to destroy [the Western] alliance.
Is that how he thinks about it? Who knows. It's impossible to get inside his head and divine his strategic goals, if he even has long-term goals. But put it this way: If a president of the United States were to sketch out a secret, detailed plan to break up the Atlantic alliance, that plan would bear a striking resemblance to Trump's behavior.
It would involve outward hostility to the leaders of Canada, Britain, France, Germany and Japan. Specifically, it would involve picking fights over artificial issues — not to win big concessions for the United States, but to create conflict for the sake of it.
A secret plan to break up the West would also have the United States looking for new allies to replace the discarded ones. The most obvious would be Russia, the biggest rival within Europe to Germany, France and Britain. And just as Russia does, a United States intent on wrecking the Atlantic alliance would meddle in the domestic politics of other countries to install new governments that also rejected the old alliance.
Check. Check. Check. Check. Trump is doing every one of these things.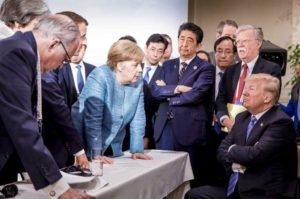 He chose not to attend the full G-7 meeting, in Quebec, this past weekend. While he was there, he picked fights. By now, you've probably seen the photograph released by the German government — of Trump sitting down, with eyebrows raised and crossed arms, while Germany's Angela Merkel and other leaders stand around him, imploring. Shinzo Abe, Japan's prime minister, wears a look of defeat.