I recently posted that Democrats will filibuster the stolen seat on the U.S. Supreme Court. Our Trumpster blog troll, state Sen.John Kavanagh, commented "Stop dreaming. Gorsuch will be confirmed without the nuclear option."
He is, of course, WRONG (as always).
This is now confirmed by both the New York Times, Senate Democrats Appear Poised to Filibuster Gorsuch Nomination: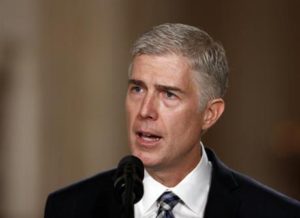 Senate Democrats on Monday appeared to secure the votes necessary to filibuster the Supreme Court nomination of Judge Neil M. Gorsuch, sending the body hurtling toward a bitter partisan confrontation later this week.
With an announcement from Senator Chris Coons, Democrat of Delaware, during the Senate Judiciary Committee's hearing to vote on Judge Gorsuch's nomination, Democrats found their 41st vote in support of a filibuster.
Later in the hearing, the Senate Judiciary Committee moved to approved the nomination in a party-line vote, 11 to 9, to move President Trump's selection to the Senate floor.
If the filibuster holds, Republicans have hinted strongly that they will pursue the so-called nuclear option, changing longstanding practices to elevate Judge Gorsuch on a simple majority vote.
The nomination fight has been shadowed, in large measure, by the treatment of Judge Merrick B. Garland, whom President Barack Obama nominated in March 2016 after the death of Justice Antonin Scalia the month before. Republicans refused to even consider Judge Garland during a presidential election year.
But Democrats insist that their opposition to Judge Gorsuch stems from more than a thirst for payback. They have cited Judge Gorsuch's record on workers' rights and his degree of independence from Mr. Trump and conservative groups like the Federalist Society, among other concerns.