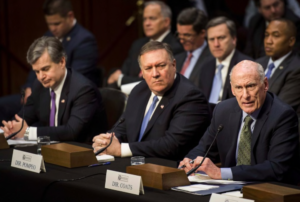 The nation's five intelligence heads, all Trump appointees, were on the Hill yesterday testifying before the Senate Intelligence Committee. All five testified that Russia interfered in our presidential election in 2016, and is already interfering in our 2018 midterm elections, and that President Trump has not issued them any express directives to stop the Russian interference. The nation's top spies said Russia is continuing to target the U.S. political system:
The nation's top intelligence chiefs were united Tuesday in declaring that Russia is continuing efforts to disrupt the U.S. political system and is targeting the 2018 midterm elections, following its successful operation to sow discord in the most recent presidential campaign.
Their assessment stands in contrast to President Trump, who has repeatedly voiced skepticism of Russian meddling in the 2016 election.
In fact, CNN reports, Trump still unconvinced Russia meddled in 2016 election: President Donald Trump still isn't buying that Russia interfered in the 2016 election, even as his intelligence chiefs unanimously told a Senate panel Tuesday that Russia meddled in 2016 and is planning to do so again in 2018, three sources familiar with the President's thinking say he remains unconvinced that Russia interfered in the presidential election.
At a Senate Intelligence Committee hearing on worldwide threats, Democrats demanded to know what the intelligence community is doing to counter Russia's actions and whether Trump has given explicit directions to do so.
"We cannot confront this threat, which is a serious one, without a whole-of-government response when the leader of the government continues to deny that it exists," said Sen. Angus King (I-Maine).
The disconnect between Trump and his senior-most intelligence advisers has raised concerns that the U.S. government will not be able to mount an effective plan to beat back Russian influence operations in the upcoming midterm elections. And Director of National Intelligence Daniel Coats said there is "no single agency in charge" of blocking Russian meddling, an admission that drew the ire of Democrats.