Earlier this week, our always insecure egomaniacal Twitter-troll-in-chief claimed that he has created "more than 1 million private sector jobs."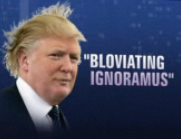 How do you know when Donald Trump is lying? His lips are moving. Trump takes credit for 1 million jobs. Not true: "Official government data from the Labor Department show only 601,000 private sector jobs have been added since January, when Trump took office. Trump is trying to take credit for far more."
This is yet another example of how Tea-Publicans can't do math. Trump Budget Based on $2 Trillion Math Error. And this example. Trump's argument for withdrawing from Paris agreement contains multi-trillion dollar math error.
The Washington Post reports, U.S. job market falls short of expectations in May, adding just 138,000 jobs:
U.S. job growth came in below expectations in May with employers adding just 138,000 jobs while the unemployment rate fell to 4.3 percent, the lowest it has been in more than 16 years, federal economists reported Friday morning.
Economists surveyed by Bloomberg had expected an increase of 180,000 in non-farm payrolls, which would have been in line with average monthly gains seen over the past year.