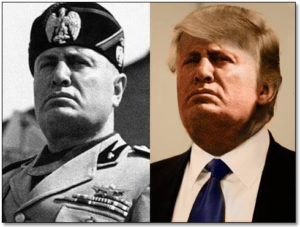 Donald Trump is hollowing out the federal government and undermining our democratic institutions with his authoritarianism and the cult of Trumpism.
In the past several days, Trump has repeated this statement about the U.S. intelligence agencies assessment of Russian cyber attacks:
"As to whether I believe it or not, I'm with our agencies, especially as currently constituted with their leadership," Mr. Trump said  … "I believe in our agencies. I've worked with them very strongly."
What Trump is referring to is his appointment for CIA Director, former congressman Mike Pompeo, who is politicizing the intelligence agency on behalf of Trump.  Trump's CIA director keeps doing controversial — and suspiciously pro-Trump — things:
The Intercept just broke a pretty big story: CIA Director Mike Pompeo reportedly met with the purveyor of a disputed theory about the internal Democratic National Committee emails that were released last year — a theory that runs counter to the intelligence community's own long-standing conclusions about the matter.
It's not the first example of Pompeo doing something that has been put under microscope. But there is a common thread running through just about every example: Pompeo doing and saying questionable things involving Russia — and those questionable things tend to lean in a pro-Trump direction.
The most recent example is Pompeo's meeting with William Binney, a former intelligence official who argues that the DNC hack wasn't a hack at all, but rather a leak from within.