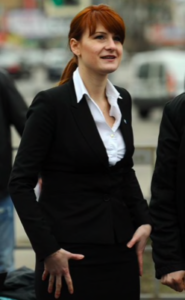 Almost lost in Trump's Surrender Summit on Monday is news that the Department of Justice announced it had arrested prominent Russian gun rights activist Maria Butina over the weekend, accusing her of setting up "back channel" lines of communication with the Kremlin in an operation that spanned from the months before Trump announced his candidacy in 2015 through February 2017, the month after his inauguration. What a Russian operative's indictment reveals about the Kremlin's attempts to infiltrate American politics and the NRA:
In the unsealed indictment, the department accused Butina of conspiring to infiltrate U.S. political groups and advance the agenda of the Russian government through her network of high-profile American contacts in politics and media.
Read the full Complaint and attached Affidavit.
The indictment includes the most explicit and detailed accusation to date against a Russian, working with the help of an American citizen, to influence the 2016 presidential election. It also provides new details about the Russian government's attempts to curry favor among prominent Americans.
Notably, the charges are not being made by special counsel Robert Mueller, who is probing Russia's attempts to meddle in the 2016 election. The investigation was carried out by the FBI's field office in Washington, and Butina is being prosecuted by the U.S. Attorney's Office for the District of Columbia and the Justice Department's national security division.