When a politician does the right thing, a rare occurrence these days, I will give them the credit and respect they deserve.
In a totally unexpected move early this morning, Senator John McCain in the end did the right thing, joining two GOP women stalwarts, Susan Collins and Lisa Murkowski, to defeat evil GOP bastard Mitch McConnell's ultimate act of legislative malpractice to repeal "Obamacare."
Thank you Senator McCain. After all the calls and emails to the senator's office that you all have made over the past several weeks, today I would urge you to do the same to offer a word of thanks to the senator. And do the same for Sens. Collins and Murkowski.
The New York Times reports, Senate Rejects Health Law Repeal, With McCain Casting the Decisive 'No' Vote: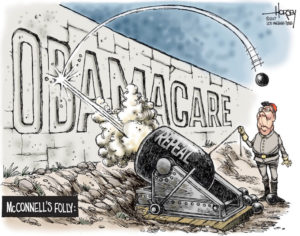 The Senate in the early hours of Friday morning rejected a new, scaled-down Republican plan to repeal parts of the Affordable Care Act, derailing the Republicans' seven-year campaign to dismantle President Barack Obama's signature health care law and dealing a huge political setback to President Trump.
Senator John McCain of Arizona, who just this week returned to the Senate after receiving a diagnosis of brain cancer, cast the decisive vote to defeat the proposal, joining two other Republicans, Susan Collins of Maine and Lisa Murkowski of Alaska, in opposing it.
The 49-to-51 vote was also a humiliating setback for the Senate majority leader, Mitch McConnell of Kentucky, who has nurtured his reputation as a master tactician and spent the last three months trying to devise a repeal bill that could win support from members of his caucus.