Tea-Publicans will not meet their artificial deadline of voting to repeal "Obamacare" on the anniversary of President Obama signing the Affordable Care Act into law. Ahhh, poor babies.
The Hill reports, GOP lawmakers leave Trump White House with no deal: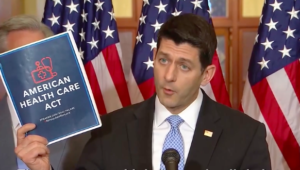 GOP lawmakers leaving the White House after a meeting with President Trump said they have not reached a deal that would allow them to support an ObamaCare repeal-and-replace bill set for a vote Thursday.
Republicans appear short of the 215 votes they'd need to win the tally. The Hill's Whip List: 32 GOP no votes on ObamaCare repeal plan.
The members streaming out of the White House just after 1 p.m. characterized the meeting positively but showed no signs of a shift toward more favorable ground for the White House.
"Nothing new was agreed upon," said Rep. Paul Gosar (R-Ariz.)
He added the group will "go back and consider our options."
House Freedom Caucus Chairman Mark Meadows (R-N.C.) told reporters on Capitol Hill that "there are not enough votes" to pass the bill.