The railbird reporting this week is that state senator Steve Farley (D-Tucson) is considering running for governor in 2018 against Governor Doug Ducey. Tucson Democrat Farley considering run for governor in 2018: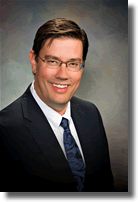 Hoping Arizonans will have had their fill of Republican policies by 2018, Tucson Democrat Steve Farley is weighing a bid to make incumbent Doug Ducey a one-term governor.
Farley told Capitol Media Services on Tuesday that the tax cuts enacted during Ducey's administration have left the state's K-12 and higher-education systems without adequate funding.
Instead, he said, the governor's policies seem to rely on the idea that tax breaks will grow the economy through new corporations moving here. In fact, Ducey has not only promised to propose tax cuts every year he is governor but said he will drive the state income tax rate to "as close to zero as possible."
Farley said that recipe makes no sense.
"The large corporations won't come here anymore if we don't have a workforce that's trained to be able to work for them," he said.