You may have missed this story last week. On flight to Phoenix, man with ALS pleads with Sen. Jeff Flake to vote no on tax bill: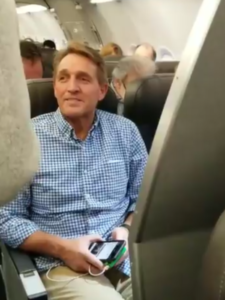 A 33-year-old father battling ALS, also known as Lou Gehrig's disease, was flying home last week after traveling to Washington, D.C., to protest the tax bill when he came face-to-face with one of the lawmakers he most hoped to influence.
Ady Barkan and others had spent a week trying to get lawmakers' attention and giving speeches outside their offices.
So when he heard Arizona Sen. Jeff Flake was on his American Airlines flight to Phoenix, he saw his moment.
"He is the single most important swing vote in this tax bill, and I need to tell him my story to vote against it," he recalled in an interview with the Arizona Republic on Friday.
'I wanted him to hear my story'
Barkan said he was a "healthy person" just a year ago. Now he lives with ALS, an incurable disease that destroys nerve cells in the body.
"I walk with a cane. I have trouble breathing, and I can't pick my baby up," he said in one of the videos, which were recorded and posted by Liz Jaff, a passenger he met while boarding the plane.
"I wanted him to hear my story and answer some questions and hopefully persuade him to vote against it," Barkan told The Republic.