The septuagenarian Ninja Turtle, Senate Majority Leader Mitch McConnell (R-Ky.), is paving the way for the Senate showdown over Neil Gorsuch's Supreme Court nomination to come to a head on Thursday. McConnell tees up Thursday Supreme Court showdown:
The Republican leader filed cloture on President Trump's pick Tuesday evening, setting up an initial vote for Thursday.
McConnell urged Democrats earlier Tuesday to back down from their filibuster threat, saying they could still "do the right thing."
"History will be watching," he said from the Senate floor. "And the future of the Senate will hang on their choice."
Wow. This is exactly the same thing as the serial killer who blames the cops for his murders, "stop me before I kill again!"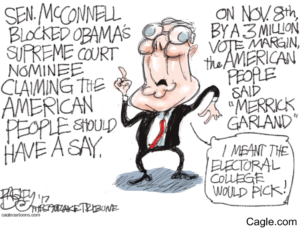 This is the man who engaged in total obstruction against President Obama, abusing the Senate filibuster rules. McConnell unleashed nearly 500 filibusters and spent years preventing Republicans from working with Democrats, regardless of the substance of a given issue, in pursuit of his goal of denying President Obama a second term. When four seats opened up on the D.C. Circuit Court of Appeals, McConnell said that the court was too large and the seats should not be filled. He convinced his GOP caucus to filibuster any and all nominees to serve on the nation's second most important court, in perpetuity and without any regard for the qualifications of individual candidates. He did the same with other vacancies in the federal courts, creating a judicial crisis in backlogged cases. Within hours after Justice Antonin Scalia died, McConnell announced that no nominee from President Obama would receive consideration in the Senate, let alone a confirmation hearing and vote. Mitch McConnell is the villain here.