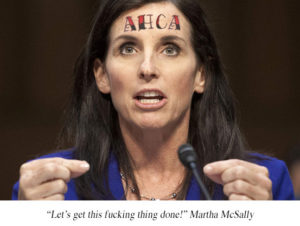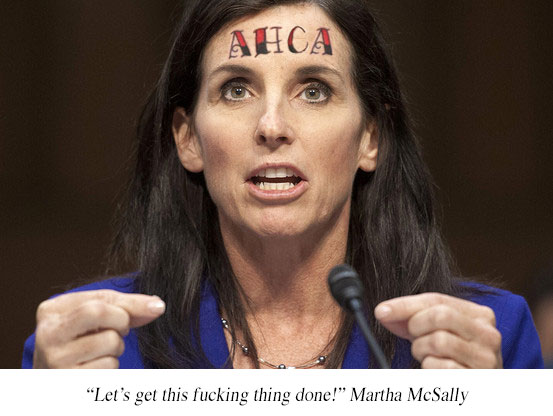 Oh, this is rich. Rep. Martha McSally, who rallied House GOP members to pass House Speaker Paul Ryan's American Health Care Act in the House with the battle cry of "Let's get this fucking thing done!", has now joined a bipartisan House group to stabilize "Obamacare."
This is like the arsonist who burns your house to the ground and then pretends to be a hero by rescuing you from the fire she set. And the GOP-friendly media in Arizona is playing along with McSally's attempt to rehabilitate her image by again pretending that McSally is a mythical moderate Republican when she votes with Donald Trump's agenda nearly 100% of the time.
The Arizona Republic reports, With GOP health-care efforts in tatters, 3 Arizona lawmakers want a bipartisan fix:
[T]hree Arizona members of Congress have joined a bipartisan group of lawmakers trying to shore up a portion of the nation's insurance system.
A proposal released Monday by the 43-member Problem Solvers Caucus would effectively guarantee insurance subsidies for the individual markets and exempt more businesses from mandated health coverage.
U.S. Rep. Martha McSally helped craft the bipartisan plan for the Republicans as a way to help stabilize the individual markets, which face a deadline next month for setting premium levels even as President Donald Trump has suggested he may withhold subsidies to them.