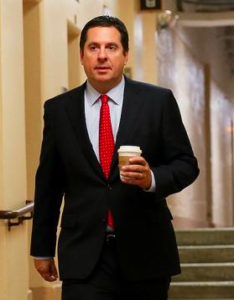 House Intelligence Committee chairman Rep. Devin Nunes never reviewed the supporting classified intelligence in the FISA Court warrant for Carter Page — a Russian agent the Trump White House has gone to great lengths to distance from the Trump campaign to the point of  erasing him from memory — from which Nunes and his staff members, and several other GOP members of his committee, have concocted the "Nunes Memo" asserting the FBI violated Carter Page's civil liberties allegedly motivated by partisan bias against the Trump campaign. The New York Times reports:
Mr. Nunes has not read the warrant from which the memo is said to be drawn. The Justice Department considers such warrants extremely sensitive and allowed only one Democrat and one Republican from the committee, plus staff, to view it. Rather than do so himself, Mr. Nunes designated Representative Trey Gowdy of South Carolina to be the Republican reader.
Ranking minority member Adam Schiff of California was the Democratic reader.
President Trump was only vaguely aware of the Nunes Memo until two GOP House Freedom Caucus members brought it to his attention in a Jan. 18 phone call. 'Never any hesitation': Trump was quickly persuaded to support memo's release:
Over the next two weeks, according to interviews with eight senior administration officials and other advisers to the president, he tuned in to [FAUX News aka Trump TV] segments about the memo. He talked to friends and advisers about it. And, before he had even read it, Trump became absolutely convinced of one thing: The memo needed to come out.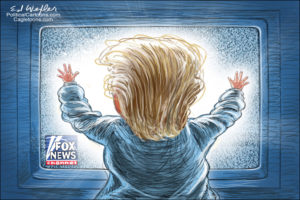 Sean Hannity has been flogging this FBI conspiracy theory on his program every night for weeks now, and Donald Trump takes his cues from FAUX & Friends and Sean Hannity.
Sean Hannity denied a Daily Beast report that he personally advised President Trump regarding the Nunes Memo, but this is really beside the point: Trump watches FAUX News and does as he is told (just follow his tweets).