So Donald Trump, once again, says 'I am the least racist person you have ever interviewed'.
Yeah, "me thinks thou dost protest too much." The Heartbeat of Racism Is Denial: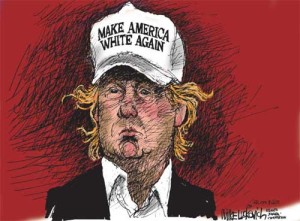 Mental health experts routinely say that denial is among the most common defense mechanisms. Denial is how the person defends his superior sense of self, his racially unequal society.
* * *
The reckoning of Mr. Trump's racism must become the reckoning of American racism. Because the American creed of denial — "I'm not a racist" — knows no political parties, no ideologies, no colors, no regions.
David Leonhardt and Ian Philbrick provide Donald Trump's Racism: The Definitive List:
The media often falls back on euphemisms when describing Trump's comments about race: racially loaded, racially charged, racially tinged, racially sensitive. And Trump himself has claimed that he is "the least racist person." But here's the truth: Donald Trump is a racist. He talks about and treats people differently based on their race. He has done so for years, and he is still doing so.
Here, we have attempted to compile a definitive list of his racist comments – or at least the publicly known ones.
Trump and his enablers (Sens. "Tehran" Tom Cotton and Sonny David Perdue – correction) really want to blame the government shutdown coming this Friday over the DACA negotiations on Democrats rather than on Trump's racism towards immigrants, the very foundation of his 2016 campaign and appeal to the white grievances of GOP voters. Trump says 'I'm not a racist,' accuses Democrats of impeding DACA deal.
But Senator Jeff Flake, a member of the "gang of six," says Democrats are negotiating 'in good faith' on Dreamers deal:
"One thing I do take big issue with the president on is he is saying that the Democrats aren't moving forward in good faith," Flake said on ABC's "This Week." "I can tell you I've been negotiating and working with the Democrats on immigration for 17 years and on this issue, on DACA or on the DREAM Act for a number of years, and the Democrats are negotiating in good faith."
So add Trump's political posturing to his list of more than 2,000 lies he has told since taking office.