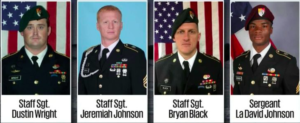 A week ago, President Trump was asked at an improptou press conference why he had not yet commented on the deaths of four American soldiers ambushed in Niger on October 4.  Rather than answer the question posed, Trump created a grand distraction for the media by bragging about his calls to the families of fallen soldiers and suggesting he is better at it than his predecessors, Presidents Obama and Bush. Criticized for not commenting on soldiers killed in action, Trump falsely says Obama did even less:
During an impromptu news conference in the White House Rose Garden on Monday afternoon, Trump was asked why he hadn't yet made a public comment on the fatalities.
"I've written [the soldiers' families] personal letters," Trump replied. "They've been sent — or they're going out tonight but they were written during the weekend."
He continued:
"I will at some point during the period of time call the parents and the families because I have done that traditionally. I felt very, very badly about that; I always feel bad. The toughest calls I have to make are the calls where this happens, soldiers are killed. It's a very difficult thing. Now, it gets to a point where you make four or five of them in one day, it's a very, very tough day. For me that's by far the toughest."
"So, the traditional way, if you look at President Obama and other presidents, most of them didn't make calls, a lot of them didn't make calls. I like to call when it's appropriate, when I think I'm able to do it. They have made the ultimate sacrifice. So generally I would say that I like to call. I'm going to be calling them — I want a little time to pass — I'm going to be calling them. I have, as you know, since I've been president I have. But in addition I actually wrote letters individually to the soldiers we're talking about and they're going to be going out either today or tomorrow."
These comments were immediately criticized by veterans of the Obama administration and members of the media who had covered it.