On Monday, the Democratic Party began to get separation from its standard-bearer Hillary Clinton in 2016, and moving forward with a first draft of a plan for the 2018 midterms. The New York Times reports, Congressional Democrats Promise a 'Better Deal' for American Workers: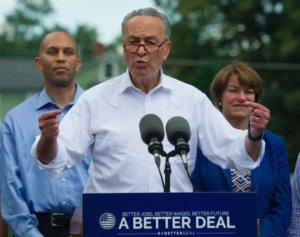 The Democratic Party wants to pick a fight with corporate America to win back Congress.
The big ideas in the economic agenda that congressional Democrats unveiled on Monday, including a higher minimum wage and lower drug prices, are aimed at reclaiming the party's populist mantle from President Trump.
Senator Chuck Schumer of New York, the driving force behind this "Better Deal," said that Mr. Trump won the presidency by promising to help working Americans, only to abandon them. The Democrats are now hoping to reclaim Congress by making a number of the same promises to the same people.
"Old-fashioned capitalism has broken down to the detriment of consumers," Mr. Schumer said on Monday afternoon in Berryville, Va., about an hour west of Washington.
Yet there were some striking omissions in the plan. There was no talk about health insurance beyond prescription drug prices. There was no discussion of trade policy beyond a placeholder sentence promising more details later; Mr. Schumer's office said Democrats planned to roll out a detailed trade agenda in the fall. And party leaders did not embrace liberal concerns about the outsize economic role of the financial industry.
The focus, instead, was on a fairly small set of battle-tested ideas. And though Senator Bernie Sanders of Vermont was not present on Monday, the imprint of his presidential campaign was unmistakably present. Democrats proposed to raise the federal minimum wage to $15 an hour — an idea the party's 2016 nominee, Hillary Clinton, never heartily embraced.
The "Fight for $15" has energized parts of the Democratic base, and it has racked up impressive victories in states including New York and California and cities from Seattle to Washington.