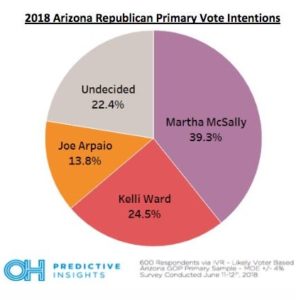 Rep. Martha McSally just pulled ahead in the GOP race for US Senate in a poll of Arizona Republican voters. In a big shift since April, McSally now leads with 39.5 percent of the GOP vote, according to Phoenix-based OH Predictive Insights.
Splitting the right-wing vote are former state Sen. Kelli Ward with 24.5 percent of GOP voters and disgraced, convicted Joe Arpaio scraping the bottom at nearly 14 percent. Combined they have less support that McSally.
Evil Joe Arpaio has become an embarrassment to Republican voters. Arpaio got a question during a GOP candidate forum in Green Valley on June 7, where an audience member asked him to drop out of the race — but Arpaio refused.
About 22 percent of GOP voters have thrown up their hands and are undecided. Early voting is 40 days away for the August 28 primary vote.
---
Jump to:
Sinema running on mainstream issues
---
Continue reading