Last month President Trump hosted a kegger party in the White House Rose Garden to cheer the passage of the American Health Care Act with House members.
Trump said "What we have is something that is very, very, incredibly well-crafted."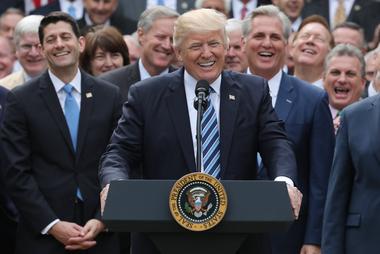 The president also promised to get it through the Senate.
"It's going to be an unbelievable victory when we get it through the Senate, and there's so much spirit there," Trump said.
That was then, this is now. Yesterday, Trump calls House health bill that he celebrated in the Rose Garden 'mean':
President Trump told Republican senators Tuesday that the House GOP health-care bill was "mean" and he expects the Senate to "improve" the legislation considerably, according to several Republicans familiar with the gathering.
The meeting came as Senate Republicans were struggling to build support for their health-care rewrite among conservatives who are concerned that the legislation is drifting too far to the left.
Trump's labeling of the House bill as "mean" was a significant shift of tone that followed months of private and public negotiations, during which he called the bill "great" and urged GOP lawmakers to vote for it. Following the House vote, Trump hosted an event in the Rose Garden to celebrate its passage.