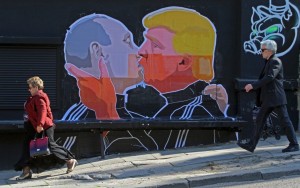 The always insecure egomaniacal Twitter-troll-in-chief Donald J. Trump publicly insists that he has no ties to Russia (while refusing to release his tax records and business records for public scrutiny which likely demonstrate otherwise).
"You're always  asking me about the Russians. I don't know nothin' about no Russians!"
We know this is bullshit, as David Leonhardt reminds us at the New York Times. Trump's Russia Motives:
The mystery at the core of the Trump-Russia story is motive.
President Trump certainly seems to have a strange case of Russophilia. He has surrounded himself with aides who have Russian ties. Those aides were talking to Russian agents during the campaign, and some are now pushing a dubious peace deal in Ukraine. Trump recently went so far as to equate the United States and Vladimir Putin's murderous regime.
But why?