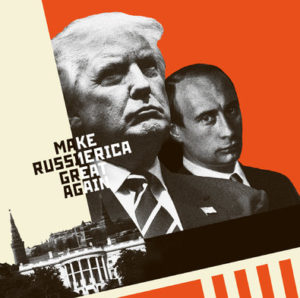 While the White House has sought to distance itself from campaign staff with ties to Russia this past week by suggesting those under scrutiny were fringe players — including Trump campaign manager Paul Manafort — the Six Degrees of Kevin Bacon connections tightened this morning with the New York Times reporting that the Senate Intelligence Committee wants to question Trump son-in-law and White House adviser Jared Kushner as part of their broad inquiry into ties between Trump associates and Russian officials or others linked to the Kremlin. Senate Committee to Question Jared Kushner Over Meetings With Russians:
The White House Counsel's Office was informed this month that the Senate Intelligence Committee, which is investigating Russian interference in the 2016 presidential election, wanted to question Mr. Kushner about meetings he arranged with the Russian ambassador, Sergey I. Kislyak, according to the government officials. The meetings included a previously unreported sit-down with the head of Russia's state-owned development bank.
Until now, the White House had acknowledged only an early December meeting between Mr. Kislyak and Mr. Kushner, which occurred at Trump Tower and was also attended by Michael T. Flynn, who would briefly serve as the national security adviser.
Later that month, though, Mr. Kislyak requested a second meeting, which Mr. Kushner asked a deputy to attend in his stead, officials said. At Mr. Kislyak's request, Mr. Kushner later met with Sergey N. Gorkov, the chief of Vnesheconombank, which drew sanctions from the Obama administration after President Vladimir V. Putin of Russia annexed Crimea and began meddling in Ukraine.