Donald Trump is under intense political fire for his defense of Neo-Confederate and Neo-Nazi white supremacists in Charlottesville, Virginia.
When in trouble, Trump sets up a campaign rally in a state that he won so he can appear before his cult followers and bask in their unquestioning adulation.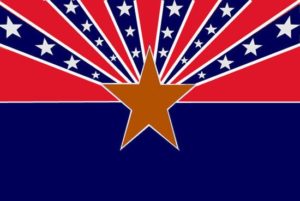 So naturally, Trump is coming to Phoenix where former Governor Jan Brewer defends President Donald Trump's Charlottesville remarks, and Tea-Publicans in the Arizona legislature have uniformly voted in favor of Neo-Confederate and "Tenther" legislation for years, as we have documented at this blog. These are his people.
President Trump is scheduled to hold a campaign-style rally in downtown Phoenix next Tuesday, making his first presidential trip to the West as his administration confronts an uproar over his tepid response to a deadly white supremacy rally in Charlottesville, Virginia. Donald Trump makes it official: He'll hold a downtown Phoenix rally:
Trump will take the stage at the Phoenix Convention Center on Tuesday at 7 p.m., according to an announcement Wednesday morning. Attendees must register to obtain tickets.
Phoenix Mayor Greg Stanton wrote in a statement Wednesday he was disappointed to learn of Trump's visit so close to the violent events in Charlottesville. The mayor called on Trump to delay the visit.
"If President Trump is coming to Phoenix to announce a pardon for former Sheriff Joe Arpaio, then it will be clear that his true intent is to enflame emotions and further divide our nation," the statement said.
Break out those Confederate and Nazi flags! As the "Unite the Right" alt-right protestors in Charlottesville chanted, "Heil Trump!" Show us your true colors. Trump has made it acceptable for you to come out of the shadows and to let your freak flags fly.