On primary election night it looked as if "Go Daddy Girl" Christine Jones may have finally spent enough of her personal fortune to buy a congressional seat in the CD 5 GOP primary, after losing previous elections.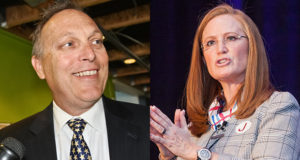 But after the last batch of ballots were processed and uploaded onto election computers on Saturday, "Go Daddy Girl" came up nine votes short to state Sen. Andy Biggs, who got his personal fortune by winning the Publisher's Clearinghouse Sweepstakes.
This means that the CD 5 GOP congressional primary is headed for an automatic recount, and things are going to get ugly between these two. The Arizona Republic reports, Christine Jones questions 9-vote loss to Andy Biggs; race is 'far from settled':
Congressional hopeful Christine Jones, who lost the Republican primary by just 9 votes to state Sen. Andy Biggs as the final votes were tallied early Saturday, is questioning the ballot count and seeking more information about how it was conducted.
The Biggs campaign accused the Jones campaign of sowing seeds of doubt about a fair and secure counting process. Biggs and his team called for transparency, while predicting his victory will be upheld. Biggs campaign attorney Kory Langhofer called it "gutter politics."