In a pyrrhic victory for the House GOP leadership, the Zombie "Trumpcare" bill passed on a party-line vote with 20 GOP defections, on a bare-minimum vote of 217-213.
Arizona Congressional delegation: Voting yes: Franks, Gosar, McSally, Schweikert; Voting No: Biggs, Gallego, Grijalva, O'Halleran, Sinema. Don't give Biggs any credit, he wanted a straight up repeal of "Obamacare."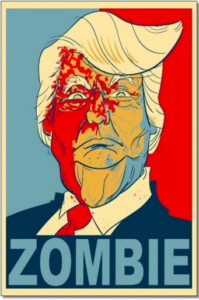 "This legislation is illogical, immoral and wrong for the country," said Rep. John Delaney (D-Md.). "The American Health Care Act is a reckless, ideologically-motivated bill that will increase pain and suffering across the country so that political actors can claim a 'win. ' " Dems tear into 'shameful' ObamaCare repeal vote.
House Minority Leader Nancy Pelosi warned Tea-Publicans before  the vote Thursday afternoon that "You have every provision of this bill tattooed on your forehead." "You will glow in the dark on this one. You will glow in the dark." Nancy Pelosi tells Republicans that Trumpcare is 'tattooed on your forehead'.
After the vote, Republican lawmakers loaded into Capitol Police buses to drive to the White House for a celebration with President Trump. As they got on board, a group of protestors gathered nearby, chanting "shame!" at them. House passes ObamaCare repeal.
This vote was a cynical act of craven political cowardice. Tea-Publicans are terrified of their GOP crazy base and the conservative media entertainment complex that feeds their insanity. They voted for political cover against a primary challenger who is crazier than they are (if that is possible) funded by these right-wing organizations. Protecting their incumbency in a GOP primary was their only motivation. They made the cynical calculation that this was more important to them than Americans losing their health insurance and potentially losing their life as a result. Dante has a new ring in the Inferno just for them.