I mentioned in a comment that last week the right-wing Public Integrity Alliance was claiming that the Glendale Elementary School District personnel and Save Our Schools Arizona violated rules regarding the use of public resources to influence political campaigns in their referendum campaign against the "vouchers on steroids" bill passed by our Tea-Publican legislature, and signed into law by our Koch-bot Governor Ducey. Non-profit alleges campaign volunteers, school district violated election laws.
Now the big guns of the right-wing are rolling out their attacks to try to prevent the referendum from qualifying for the ballot. The Arizona Capitol Times reports, Voucher expansion on hold as effort to kill campaign begins: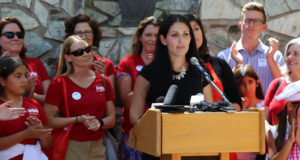 School voucher expansion legislation is on hold after Save Our Schools Arizona delivered, by the group's count, 111,540 signatures today to refer the law to the 2018 general election ballot.
A yellow school bus decked out in SOS Arizona banners carried the signatures to a loading deck below the Arizona Secretary of State's Office. Volunteers in red SOS Arizona shirts loaded wagons full of petition boxes, and children dressed as professionals carted them to the building.
Beyond the spectacle, spokeswoman Dawn Penich-Thacker (above) was clear that the effort to quash the expansion of the state's Empowerment Scholarship Account program was far from over.