A truly remarkable event occured this week. Who could have imagined that this would even be necessary?
The House and Senate unanimously passed a joint resolution urging President Trump to denounce racist and anti-Semitic hate groups, sending a blunt message of dissatisfaction with the president's initial, equivocal response to the white nationalist violence in Charlottesville, Va., last month. Congress Passes Measure Challenging Trump to Denounce Hate Groups: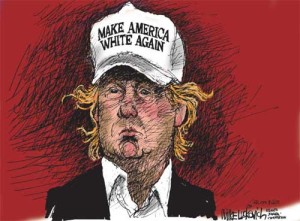 The resolution passed the Senate without dissent on Monday and was approved without objection by the entire House on Tuesday night.
The nonbinding measure specifically singles out for condemnation "White nationalists, White supremacists, the Ku Klux Klan, neo-Nazis, and other hate groups."
* * *
The House version of the resolution, introduced by Republican and Democratic House members from Virginia, asks Mr. Trump to "use all resources available to the President and the President's Cabinet to address the growing prevalence of those hate groups in the United States."
* * *
The text does not include any reference to counterprotesters.
It also calls on Attorney General Jeff Sessions to "investigate thoroughly all acts of violence, intimidation, and domestic terrorism by White supremacists, White nationalists, neo-Nazis, the Ku Klux Klan, and associated groups" and to "improve the reporting of hate crimes" to the F.B.I.
"What happened in Charlottesville was an act of domestic terrorism perpetrated by a white supremacist, one that tragically cut short the life of a young woman, Heather Heyer, who was speaking out against hatred and bigotry," Senator Mark Warner, Democrat of Virginia and a co-sponsor of the measure, said in a statement.