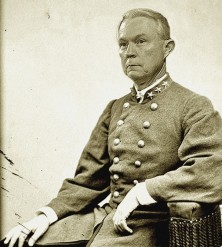 Senator Jefferson Beauregard Sessions III (R-AL) — Geezus! You can almost hear the Confederate flags snapping in the breeze, can't you? — was approved on a near party-line vote with only one Democratic defection, to become the next Attorney General of the United States after a contentious Senate vote. Jeff Sessions Confirmed as Attorney General, Capping Bitter Battle:
Senator Jefferson Beauregard Sessions III, an Alabama Republican, survived a near-party-line vote, 52 to 47, in the latest sign of the extreme partisanship at play as Mr. Trump strains to install his cabinet. No Republicans broke ranks in their support of a colleague who will become the nation's top law enforcement official after two decades in the Senate. [Joe Manchin (D-WV) broke ranks with Democrats.]
But the confirmation process — ferocious even by the standards of moldering decorum that have defined the body's recent years — laid bare the Senate's deep divisions at the outset of the Trump presidency. At the same time, the treatment of Senator Elizabeth Warren, who was forced to stop speaking late Tuesday after criticizing Sen. Sessions from the Senate floor, rekindled the gender-infused politics that animated the presidential election and the women's march protesting Mr. Trump the day after his inauguration last month.
Sen. Sessions cast his final vote as a senator to note that he was present for Wednesday's tally. His confirmation was met by applause from his colleagues, including a few Democrats, on the Senate floor.