There has been a substantial amount of reporting in the past week or so on Stephen Bannon, the white nationalist crypto-fascist editor of Breitbart News and Trump adviser, and his war on the GOP establishment.  At the entirely misappropriately named Values Voter Summit, Bannon declares 'war' on GOP establishment. He told Fox News' propagandist Sean Hannity earlier in the week that he was declaring "war" on the Republican establishment.
The media mythologizing Bannon as the alt-right Svengali to Donald Trump is misplaced. Bannon would be "Stephen who?," a political nobody, but for the "wingnut welfare" (the lavishly-funded ecosystem of right-wing billionaire-financed think tanks and media outlets) financial backing of far-right extremist billionaires Robert and Rebekah Mercer. Some say Bannon is their Svengali.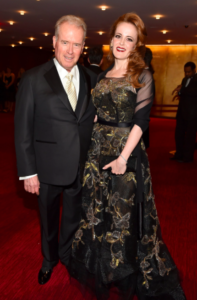 When the media focuses on the vicious barking dog, they ignore the owner holding the dog's leash to the peril of the country. When the media reports on Stephen Bannon, it has an obligation to also report on Robert and Rebekkah Mercer in the same breath, exposing them to the bright light of public scrutiny that they seek to avoid.
Jane Mayer of the New Yorker did a deep-dive investigative report into The Reclusive Hedge-Fund Tycoon Behind the Trump Presidency back in March (excerpts):
People who know [Robert Mercer] say that he is painfully awkward socially, and rarely speaks. "He can barely look you in the eye when he talks," an acquaintance said. "It's probably helpful to be highly introverted when getting lost in code, but in politics you have to talk to people, in order to find out how the real world works." In 2010, when the Wall Street Journal wrote about Mercer assuming a top role at Renaissance, he issued a terse statement: "I'm happy going through my life without saying anything to anybody." According to the paper, he once told a colleague that he preferred the company of cats to humans.
Several people who have worked with Mercer believe that, despite his oddities, he has had surprising success in aligning the Republican Party, and consequently America, with his personal beliefs, and is now uniquely positioned to exert influence over the Trump Administration.