SCR 1034 (.pdf), sponsored by Senator Yarbrough, would alter sections of the citizens initiative that established the Arizona Independent Redistricting Commission.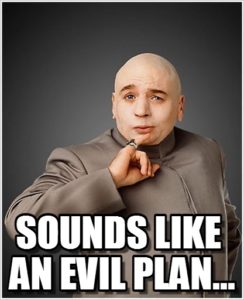 Among the changes are an increase in the number of Commissioners to eight, selected directly by legislative leaders rather than the Commission on Appellate Court Appointments, which would lead to partisan gridlock because it also requires a supermajority vote of the AIRC to adopt a map (unlikely), which would then allow the legislature to refer its own alternate maps to the ballot (by simple majority vote), and if approved by the voters, would supersede the maps drawn by the Commission. Thus the legislature is back in the redistricting business again! Bwahahaha!
The Senate Government Committee approved the resolution on a 4-3 partisan vote on Wednesday. The Arizona Capitol Times (subscription required) reports, GOP proposal would restructure Arizona redistricting:
Critics warn that a plan to alter the membership of a commission responsible for drawing Arizona's congressional and legislative district maps is designed to fail.
Senate President Steve Yarbrough conceded that by increasing the number of members on the Independent Redistricting Commission from five to eight, it's likely that the commission would face gridlock.
"That is indeed going to create a probable 4-4 (vote) by my own estimation, but that is by design," the Chandler Republican told the Senate Government Committee, which approved the resolution on a 4-3 partisan vote Wednesday.
Requiring a supermajority to approve maps during redistricting, a highly-contentious process that creates district maps that will be used for the next decade, will require commissioners to find true bipartisan consensus, Yarbrough said.
"I want the most bipartisan and fair process that we can design," he said.
This is a bald-faced lie. Keep reading for the true reason.