Our lawless Tea-Publican legislature intends to fast-track the unconstitutional "vouchers for all" bills today in committee hearings. Tea-Publican legislators routinely disregard the advice of legal counsel. Rules attorneys warn bills are unconstitutional — to no avail.
The Arizona Republic reports, Republicans fast-track school-voucher bill in Arizona Legislature: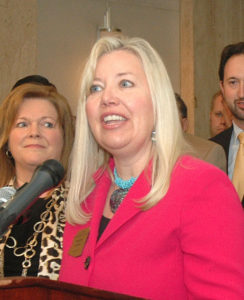 Republican lawmakers in the Arizona Legislature are attempting to fast-track a plan to eventually offer vouchers to every public-school student and, in separate legislation, privatize oversight of the public money given to parents to pay private-school tuition and other expenses.
Beginning Thursday, the Legislature will train its sights on the plan to broaden eligibility for Empowerment Scholarship Accounts, a school-choice program created six years ago for disabled children. Under the legislation, all of Arizona's 1.1 million students would be eligible for the program by 2020.
Sen. Debbie Lesko, of Peoria (above), and Rep. John Allen, of Scottsdale, have introduced identical bills to expand the program in their chambers, a move intended to expedite passage. ESAs allow families to use public-school dollars on private-school tuition and other educational expenses.