Phoenix Mayor Greg Stanton has asked the "Great White Hope" Donad Trump not to bring his racist circus act to Phoenix. Phoenix Mayor Greg Stanton: Now is not the time for Trump to visit my city. The Arizona Daily Star in Tucson has editorialized against Trump's campaign rally as well. Star Opinion: President Trump, stay home.
And yet the darkness will descend on Phoenix like the shadow of  Monday's total eclipse of the sun.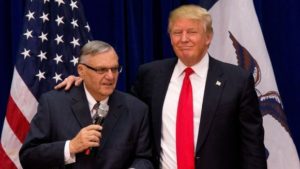 As Trump heads to Arizona, GOP leaders want him out of Jeff Flake's Senate race. The Washington Post editorializes today that "If Trump pardons Joe Arpaio, America's foremost racial profiler, it would further discredit his presidency." This would be a travesty of justice.
The media is reporting on Trump's visit as if they are anticipating, if not encouraging, violent protests like the one we saw in Charlottesville, Virgina. Oh, they will deny any such purpose, but a violent protest sells newspapers and fills hours of cable TV with chattering talking heads. Large Protests Are Planned Near Trump Rally in Arizona (New York Times). Our View: Donald Trump's Phoenix rally will test him — and us (The Arizona Republic). The Republic also editorializes not to pardon Joe Arpaio. The Republic's Elvia Diaz cautions, Be careful, Latinos. Trump is in Phoenix to provoke us.
UPDATE: White House press secretary Sarah Huckabee Sanders on Tuesday said President Donald Trump will not discuss or act "today" on the possibility of pardoning former Maricopa County Sheriff Joe Arpaio. White House: Trump Won't Pardon Arpaio At Arizona Rally Tuesday. "There will be no discussion of that today at any point, and no action will be taken on that front at any point today," Sanders told pool reporters on Air Force One.