As I posted yesterday, the takeaway from Monday's "press availabilty" is that Trump was forced to make a more forceful condemnation of white supremacist groups because he had to staunch the flood of bad press he has been getting since Saturday. The sincerity of his statement was seriously in doubt.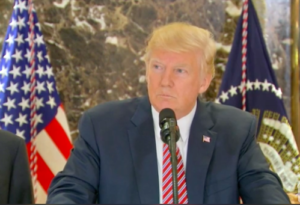 If you have not seen Tuesday's press availability, you really must watch a replay. Donald Trump had a total meltdown today, returning to his "blame both sides" position on Saturday, and destroying whatever political cover he gave to Republicans yesterday with the prepared remarks that he had obviously been forced to give. Trump made things worse today.
Watch the entire heated exchange between Trump and reporters over Charlottesville.
This was a big "fuck you!" to his White House staff, to reporters and pundits, and to other critics of his belated and weak response to events in Charlottesville, Virginia. This was Donald Trump unchained and out of control.
It is being reported that Trump was not supposed to take any questions today and went rogue. His staff  is reportedly stunned by what they observed today, as were reporters.
This Washington Post report really does not do this press availability justice. You have to see it to fully appreciate what happened. Trump again blames both sides in Charlottesville, says some counterprotesters were 'very, very violent':
President Trump said Tuesday that counterprotesters at a white supremacist rally in Charlottesville acted violently and should share the blame for the mayhem that left a woman dead and many injured.
Speaking at Trump Tower in Manhattan, the president called the events of Saturday at the "Unite the Right" rally a "horrible thing to watch," but he emphasized that both sides acted irresponsibly.
"You had a group on one side that was bad and you had a group on the other side that was also very violent," Trump said.  "No one wants to say that, but I'll say it right now: You had a group on the other side that came charging in without a permit and they were very, very violent."