Today's the day: Donald Trump Supreme Court choice announcement coming Tuesday 8 p.m. ET.
Paul Waldman at the Washington Post reports:
Burgess Everett (Politico) reports that Democrats look like they're ready to pull the trigger on a filibuster of Trump's Supreme Court nominee: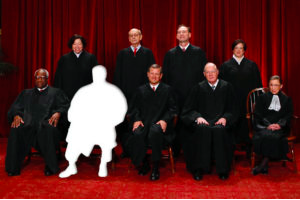 Senate Democrats are going to try to bring down President Donald Trump's Supreme Court pick no matter who the president chooses to fill the current vacancy.
With Trump prepared to announce his nominee on Tuesday evening, Sen. Jeff Merkley (D-Ore.) said in an interview on Monday morning that he will filibuster any pick that is not Merrick Garland and that the vast majority of his caucus will oppose Trump's nomination. That means Trump's nominee will need 60 votes to be confirmed by the Senate.
"This is a stolen seat. This is the first time a Senate majority has stolen a seat," Merkley said in an interview. "We will use every lever in our power to stop this."