The Senate parliamentarian told senators that Tea-Publicans' ability to pass an Obamacare replacement with just 51 votes expires at the end of September. Repealing Obamacare Just Got Even More Complicated. It was not entirely clear to me whether the Continuing Resolution (CR) that Congress passed a couple of weeks ago would extend this deadline, but everything I have read since indicates that the September 30 deadline remains in effect.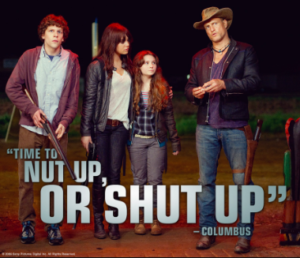 OK, zombie hunters. Last week Tea-Publicans introduced their desperation zombie "Trumpcare" bill. You know what you have to do.
Steve Benen explains, The final fight of the Republican health care crusade has arrived:
Sens. Lindsey Graham (R-S.C.), Bill Cassidy (R-La.), Dean Heller (R-Nev.), and Ron Johnson (R-Wis.) formally unveiled the only remaining Republican plan to overhaul the nation's health care system.
NBC News obtained an advanced draft of the proposal, which has been percolating for a couple of months.
The 23-page summary draft and an explanation of funding, which Graham's office confirmed is authentic, attempts to achieve parity in federal funding between states that expanded Medicaid and those that did not by 2026. That division was one that helped to kill the Senate's efforts because senators from expansion states tended to oppose the legislation in its previous versions due to the roll-back of the Medicaid expansion.

The bill also provides federal money to states to implement their own health care plan as opposed to one system for all 50 states that exists under Obamacare.
We've discussed many of the profound flaws in this plan before, and we can go into more detail once the legislation is available for scrutiny. For now, however, let's consider whether the Graham-Cassidy plan has a credible chance at success.
Note: There are at least 46 Tea-Publicans who would vote for a blank piece of paper, sight unseen, if they are told it repeals Obamacare,  consequences to Americans, the health care system, and the economy be damned.