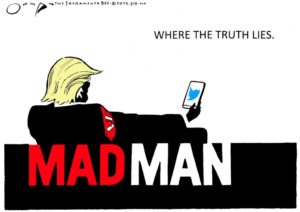 There has never been any question that our always insecure egomaniacal Twitter-troll-in-chief is a serious head case. He is mentally and emotionally unfit to serve as president.
The one and only true statement that White House spokesperson Sarah Huckabee Sanders made this past week was 'America knew what they were getting': Sarah Huckabee Sanders blames you for Trump's despicable tweets.
Trump's unhinged attacks on the hosts of MSNBC's Morning Joe over the past week, Lawmakers blast Trump's 'crude, false, and unpresidential' CNN tweet, is just the latest skirmish in a war against the independent media and the First Amendment that he has been waging since announcing that he was a candidate for office.
The first thing that any autocratic authoritarian leader does is to silence the independent media, often having reporters arrested and jailed, or even killed. The authoritarian state establishes its own media as the sole voice of what is truth.
Donald Trump has repeatedly asserted that all independent media that is critical of him is "fake news." Trump's media team openly states that they are creating an "alternate reality" with "alternative facts" (i.e., propaganda). Trump regularly tells his sycophant supporters that only he can be believed — even though it is well documented that virtually everything he says is a demonstrable lie, Trump's Lies, the Definitive List — and during his campaign he encouraged his supporters to engage in violence against reporters. Donald Trump Encourages Violence At His Rallies. His Fans Are Listening.