I told you not to hold your breath on President Trump authorizing the release of the Democratic rebuttal memo to the Nunes memo. Trump will not release Democrats' memo on FBI surveillance: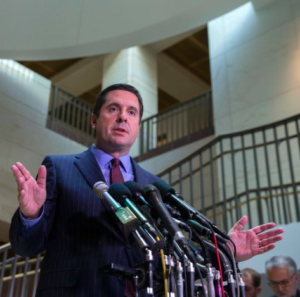 President Trump will not immediately agree to release a Democratic memo rebutting GOP claims that the FBI abused its surveillance authority as it probed Russian meddling in the 2016 election, but he has directed the Justice Department to work with lawmakers so some form of the document could be made public, the White House counsel said Friday night.
In a letter to the House Intelligence Committee, White House counsel Donald McGahn wrote that the Justice Department had identified portions of the Democrats' memo that it believed "would create especially significant concerns for the national security and law enforcement interests" if disclosed. McGahn included in his note a letter from Deputy Attorney General Rod J. Rosenstein and FBI Director Christopher A. Wray supporting that claim.
McGahn wrote in his letter that Trump was "inclined to declassify" the Democrats' memo, but given its sensitive passages, he was "unable to do so." McGahn wrote that the president had instructed the Justice Department to work with Congress to mitigate those risks.
* * *
Senate Minority Leader Charles E. Schumer (D-N.Y.) said in a statement: "The President's double standard when it comes to transparency is appalling. The rationale for releasing the Nunes memo, transparency, vanishes when it could show information that's harmful to him. Millions of Americans are asking one simple question: what is he hiding?" He was referring to the GOP memo, which was produced by the staff of Rep. Devin Nunes (R-Calif.).