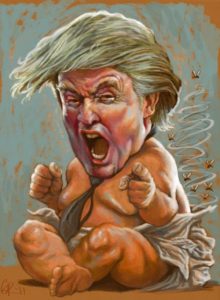 Donald Trump has a long history of fabricating his own myths about his ability of negotiating deals.
This political novice has no experience and no skills in legislating, and more importantly, no capital with those whom he is negotiating — he attacks Tea-publicans in Congress as easily as Democrats. He attacks anyone who does not immediately satisfy his petulant demands or dares to disagree with him.
What we have is a 70 year old man with a three year old's child-like mentality, a man who throws tantrums to get his way, whether it is an early morning Twitter rage, or his latest tantrum: "Let me win or I will take my ball and go home!" Trump delivers ultimatum to House Republicans: Pass health-care measure on Friday or he'll move on:
President Trump delivered an ultimatum to House Republicans on Thursday night: Vote to approve the measure to overhaul the nation's health-care system on the House floor Friday, or reject it and the president will move on to his other legislative priorities.
The president, through his aides in a closed-door meeting, signaled that the time for negotiations was over with rank-and-file Republicans who were meeting late at night on Capitol Hill to try to find common ground on the embattled package crafted by House Speaker Paul D. Ryan (R-Wis.).
The move was a high-risk gamble for the president and the speaker, who have invested significant political capital in passing legislation that would replace the 2010 Affordable Care Act. For Trump, who campaigned as a skilled negotiator capable of forging a good deal on behalf of Americans, it could either vindicate or undercut one of his signature claims.